Liturgy, being a common cause performed by Jesus Christ and The Holy Spirit, performed by all the believers, continues outside the Church. We could, strangely enough, compare believers with the life-giving blood that flows inside our dying society. The unity of the mankind in the church, unity of the believers shows the world what the mankind should be like. It should be united in faith, in mutual love, in its readiness to live for one another.
Metropolitan Anthony of Sourozh
Educating our youth is the common cause of the State, society and Church
Minister of Eduation V.M. Philippov
Common Cause Interregional Public Youth Organisation was founded on the day of Iberian Icon of the Mother of God on the 7th of May, 2002.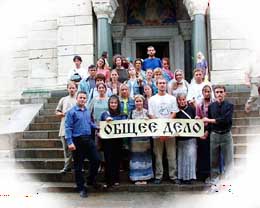 MISSION STATEMENT
To help educating children and youth on the bases the national spiritual values, on the values of the world's culture.
We see our service to the society as continuation of our service to Lord.. We strive to contribute to the creation of the society that lives according to the Biblical values, laws of honour, duty and love.
Our organization has carried out a number of projects directed to the moral and cultural education of young people. One of the most important among them were :
The First International Youth Conference Mangup 2002, carried out with the blessing of the Metropolitan Lasar of Simpheropol and Crimea in August 28-31 in Crimea
International Youth Pilgrimage to the Bretagne's ancient holy places carried out with the blessing of the Metropolitan Kirill of Smolensk, head of the Department for External Church Relations of the Moscow Patriarchate.
We have also organised a number of orthodox summer camps and pilgrimages for children and young people. The youth summer camp Bogucharovo, near Tula has become a regular one already. Its aim is to restorate churches connected with the name of A.S. Khomyakov – a famous Russian philosopher and writer.
To spread Christian and national spiritual values among young people we have carried out an orthodox missionary outreach to Moscow students "Hodigitria". 20,000 students from more than 30 Moscow Universities and institutes took part in it.
We fully realize the crucial importance of working out materials and resources, which could be useful in moral and cultural education. We have unique experience of intelligence walks and apologetic games. We create and spread materials that will assist young people to accomplish their mission in church and society.
We have lots of new projects and ideas.
You are welcome to join us!